Before starting with the factors involved in the plan, I would like to begin by defining the concept of "Digital Marketing Plan," since, even if you intuit it, you probably still do not know precisely what it is:
What is a Digital Marketing Plan?
---
"A Digital Marketing Plan is any document that collects information on the objectives and strategies that will be developed in the online sector for the promotion of a business, brand or project."
That is, it is the guide that must be followed to carry out online marketing actions and that these have a well-defined course and goals.
It is useless to start launching actions of all kinds if they do not have a motive behind it. To achieve objectives, a strategy and goals to be performed must have been previously defined.
This previous definition is the basis of the digital marketing plan, on which a specific plan will then be defined, in which a target audience is established and the marketing actions through which to deliver a particular brand message.
Why should you create a Digital Marketing Plan?
---
As I said at the beginning, one of the main advantages of implementing an effective marketing plan is that you can get very qualified web traffic, which you can become customers thanks to specific actions.
However, this is not the only reason why I recommend you start planning all your marketing actions right away.
Think that this will also help you get these other benefits:
► You will get information
The previous analysis that you have to carry out will help you to have objective information about the situation in which your business is and the sector. You will analyze the competition, the market, the users, etc.
In short, you will know much better all the agents that have to do with your project.
This is often overlooked or not done exhaustively, which often causes the subjective to be ahead of the objective.
► You will have a roadmap handy
This serves to have a tool that everyone can go to. If several people work in the development of the actions defined in the digital marketing plan, it will be much easier to unify the work with a set of guidelines.
► You will know your goals in advance
Having the previous analysis well done and knowing what the project is looking for, it is easier to define measurable, real, and well-established objectives.
► You will work under a methodology
Having your strategic planning will help you have a method to work with.
That is, it will help you define what tools you need if you should seek support from other professionals, what are the KPIs you should measure, etc.
"Developing a Digital Marketing Plan is essential for the work to flow over time since you save organizational time and can focus when doubts or new ideas arise."
Steps to follow to plan your digital strategy
---
If you have never considered working according to strategic planning, you may find all this overwhelming (yes, I know, there are many things to consider …).
Here, my recommendation is that you keep in mind that everything you invest in marketing efforts at the beginning will be a great long-term benefit.
And, the more in-depth and more elaborate the digital marketing plan, the easier it will be all later.
Therefore, let me tell you below what steps you should take to create your planning.
1. External analysis
The first thing you should do when considering working this tool is to start with the external review. This should include everything related to your business, your brand, your website, or the project in question.
You must locate your direct competitors, those who do the same as you, or something very similar, and target the same target audience.
Once you know who they are, it is time to study their marketing actions, the channels in which they move, their online community, etc.
It is also interesting to meet those competitors who, although they do not move in precisely the same direction, are related to your brand or business.
For example, if you have an eCommerce, your indirect competition, maybe someone who sells the same products but in a physical store.
It is not addressed to the same public because it does not sell on the Internet, but it could do so at some point, so it is better to know it well from the beginning.
For example, if yours is a blog, you should study well how the world of blogging works in general: the influencers, their relationship with companies, and everything that comes to mind about it.
If instead, you have an online store, you should know the target audience, users, online shopping behavior, distributors, etc. well.
2. Internal analysis
Once you know all the external agents well, it's time to look at your belly button a little.
That is, it is time to make your internal analysis.
And why do I propose to do the external analysis first and then my own?
Because when you start working on your internal analysis, it is best to start with a SWOT, and this requires having information from others to be able to think deeply about your situation:
What are your weak points independently of each other ( 

D

 ebilidades).

What are the problems that could arise about your competitors ( 

A

 means)?

What are your strengths independently from others ( 

F

 Fortaleza's)?

In what aspect are you at the forefront or ahead of your competition ( 

or

 opportunities).
As you can see, two parts of the SWOT have to do with the competition, so, as I said before, it is better to know the external analysis first.
This way, you can then calmly analyze your real situation.
Keep in mind that what you are developing is a digital marketing plan, so all these aspects that we have seen, both internally and externally, should be raised from that perspective.
3. Definition of objectives
Once the environment and your situation within the sector are transparent, it is easier to set the goals you want to achieve thanks to the development of a digital marketing plan for your business.
These objectives should always be:
Specific:

it is

better to have three different goals in the short, medium, and long term with a particular purpose than a generic one. The more specific they are, the easier it will be to know if they are being met or not.
Measurable:

 this point is critical. If you set yourself non-measurable objectives, you will never know for sure if they have been met or to what degree, but with measurable goals, the analyzes will be reliable.
Achievable:

 

this characteristic of the objectives implies knowing your business well and raising things that are possible. If you set a goal for which you need resources that you don't have yet, you won't be able to achieve it until you get those resources.
Realistic:

you have

to be honest and know what can and cannot be done. It does not mean that you have to think small, but you have to be aware of the possible limitations.
Limited in time:

 this feature is often overlooked and is a mistake. Having a marked "timing" is essential, and you will see it clearly with an example:
If your goal is to sell 30 products, I don't think it's as positive to get it in a week as in a year, right?
In the same way, it happens in a blog, it is not the same to get specific traffic in a short period than without a date, lengthening it in time.
4. Strategy approach and channel selection
When you know what objectives you pursue with your strategic planning, it will be necessary to start thinking about how you are going to implement it.
To do this, you must think about the online channels in which you will take action.
Therefore, it will be time to analyze where you want to take your message; email marketing, social networks, web, etc.
Your strategy will define everything about how you are going to use those channels.
In this regard, you will also have to determine:
What audience are you looking for in each channel?

What will be the tone of communication?

What kind of messages are you going to launch?

The shipping frequency

What professional profiles you need to involve.
5. Proposal of actions
The strategy you have proposed above must be transformed into concrete steps.
For example, in an eCommerce, your strategy may be pricing (or base your strength on the price), and you want to bet on advertising in this area.
In that case, you should think about what concrete actions you are going to take so that users know these prices (Facebook ads, newsletter delivery on Black Friday or Christmas, etc.).
In the case of a blog, your actions must also be defined.
For example, in content planning or the banners you include.
6. Analysis, measurement, and reports
Once everything is working, we must not neglect the evolutionary analysis of results.
It seems that if you have already done that first in-depth analysis, both internal and external, everything is previously controlled, right?
The reality is that its ease of being regularly analyzed characterizes digital marketing. In this sector, everything is measurable and comparable.
For this reason, you must define what KPI's (or indexes) are essential to you and how often you want to measure them.
"Do not hesitate to make periodic reports and monitor everything that happens. It is the only way to have control over the development of the digital marketing plan. "
7. Troubleshooting
The monitoring and measurement of the actions will help you know if the objectives you have set are being achieved.
Thanks to the data that these analyzes will give you, you will be able to know if the thing is going well and how to improve it or if it is necessary to solve problems.
Sometimes, a drastic change is necessary that implies reorienting the strategies, and on other occasions, it will be enough to do A / B tests in your messages, which will help you know how to improve some aspects.
Blog vs. Web: how is your Digital Marketing Plan?
---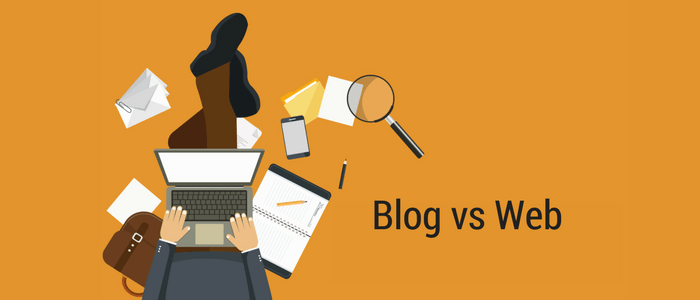 So far, we have seen, in general, the different steps you have to follow to plan your digital marketing strategy or plan, whatever type of business you have.
However, your goals will not be the same if you have a blog, a corporate website, or an online store and, therefore, your actions either.
In this last section, I encourage you to go into more detail as you are a blogging professional concerned with developing a personal brand or business with your corporate page.
► Digital Marketing Plan for a blog
Let's start by analyzing the characteristics of the digital marketing plan for those of us who have a blog:
Objectives:

The first thing to keep in mind is that the purposes of a blog have nothing to do with sales (or at least not directly).
That is, the blog can be another tool within a business, but the purpose of the blog as such will be to reach a target audience, get leads, social media engagement, brand positioning, or any other aspect that is not strictly monetary.
Audience:

on the other hand, it must be clear that the users to whom this plan is directed are followers or readers, not customers.
You may get leads that later become customers, of course, but right now, they are readers, and you should treat them as such.
Actions:

the strategies are oriented towards the achievement of an online community and, therefore, the activities are aimed at getting engagement with that community, participation, and links with them.
All of this can lead to the generation of new business opportunities, but this is not always the case.
A positive aspect of working a blog is that the relationship with these users is usually much closer than with the clients of a business, so it will be they who help you reorient your plan whenever necessary.
► Digital Marketing Plan for a corporate website
In the case of companies or companies with online visibility through a corporate portal, we would be faced with the following scenario:
Objectives:

when the digital marketing plan is created for the positive evolution of a brand with a presence on the Internet, we start talking about investment aimed at reaching a specific objective, measurable in economic figures at a shorter or longer period.

Audience:

While digital marketing avoids intrusive techniques, the background of each content (however relevant) indeed carries a commercial message focused on customers or potential customers.

Actions:

in this case, the 

sales funnel

 must be taken into account, to be able to accompany each user in their conversion through the different phases until the purchase is made.
Therefore, straightforward actions are applied depending on the stage of the funnel in which each user is.
Everything good that blogging brings is what also leads to mixed models.
Think that every time we see more corporate websites that incorporate their blog, which seeks to expand the community and get feedback from users.
conclusion
Nowadays, it is essential to be on the Internet, but it is not worth being in any way.
Each step must be taken logically and securely, following a defined path towards specific objectives.
An excellent digital marketing plan will help you guide your online project and know what actions and steps you should take at all times.
My last advice to make your plan work is never to stop measuring and reviewing the actions, since only then can you get ahead of different situations and move on the right path.
Have you made any digital marketing plan for your project?
What kind of analysis do you do to know if everything is following the marked path?